`
Posted on June 15th, 2016
---
Unlike at many weddings, I won't be the only person at my wedding wearing white.  At our August black tie wedding, the men in the wedding party will be donning ivory dinner jackets.
Ian and I graduated from a prep school with an unusual tradition: instead of cap & gown at graduation, the girls wear white full length gowns, and then boys wear summer tuxes.  As if this wasn't mass wedding enough, the girls are also escorted down the aisle by a boy while carrying matching bouquets.  Don't believe me?
Yup.
The white dinner jacket, while by itself a classic century-old summer choice, holds a lot of significance for us and offered a wonderful opportunity to give a nod to our shared roots.  And I happen to think it's a gorgeous look!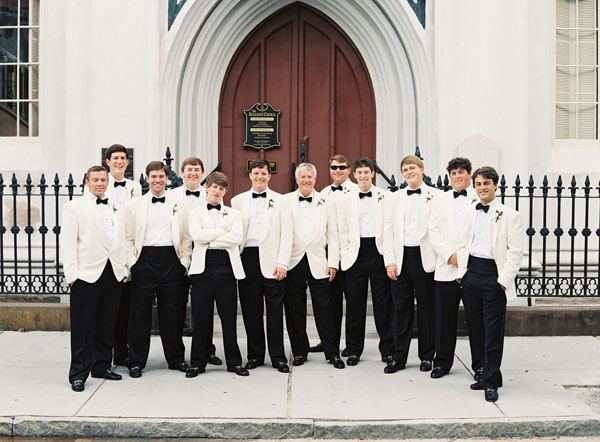 At the risk of letting my inner Bridezilla show, it has been a bit difficult finding the right shade of off-white and the right lapels… but I could not be more excited to see my groom and our guys decked out in their summer finest.  Bryan Rafenelli, Chelsea Clinton's wedding planner, said in a New York Times interview, "I haven't yet seen a guy in a white dinner jacket who didn't look cool."
Don't look now, guys.  The #NightingaleNuptials might end up being cool.